Siem Reap was very high on our list when deciding which direction to start our travels to. We wanted to see Angkor Wat and the other beautiful temples in the area and immerse into the remainders of the ancient khmer empire. And it proved to be a great choice despite the brutal heat: we have enjoyed every moment of this visit.
Khmer New Year – Chaul Chnam
When landing in Siem Reap we found out that we had just arrived in the middle of the 5-day long Khmer New Year. We were really happy to get an opportunity to see how people celebrate this very important holiday.
In the evening we went into the city center and had our first encounter with the nice "traditional fiesta": the streets were transformed into a water "war zone". Similar to the Songkran water festival in Thailand, young people were equipped with water guns and pistols, and shooting water all over the place, at each other, and of course at the tourists…. :) To make things even more fun, they threw baby talc around, so what starts as a rather wet experience, becomes a gluey, sticky and bread-crumbed evening. We were quite lucky, we missed the talc, were just caught by a water hose, but in the 34-35 °C evening this was even enjoyable.
Next day we found out the 2nd truth about the traditional way of celebrating New Year: families gather and travel together to either their home towns or to important religious places. Very nice tradition: except, that the most outstanding religious location in whole Cambodia is the Angkor Wat temple, which we decided to visit exactly one of the New Years´ days… Beside the incredible crowds having picnic around, in and on the buildings and statues, there was music playing everywhere from speakers in a loudness you don't even hear in a techno disco at the Balaton. Not unexpectedly: the next day we decided to take it easy, wait for the holiday to be over and had a good swim at the hotel pool, which was anyway a good choice in 42°C.
(Some days later we heard, that approximately 1,5 million people visited that temple during the 5 days.)
Our daily routine
But after the crowds left we started to explore the area. We took it slowly and visited the temples in 5 days. Although getting up early is not our strongest point, here it was definitely worth it, as until 9 the heat was still bearable. Starting at 6:30 and finishing around noon gave us the afternoons to relax and recover and the evenings to visit the town, stroll around the markets, try local food, talk to people, listen to a concert in Hard Rock Café :) or look at an Apsara dance performance in a Khmer restaurant.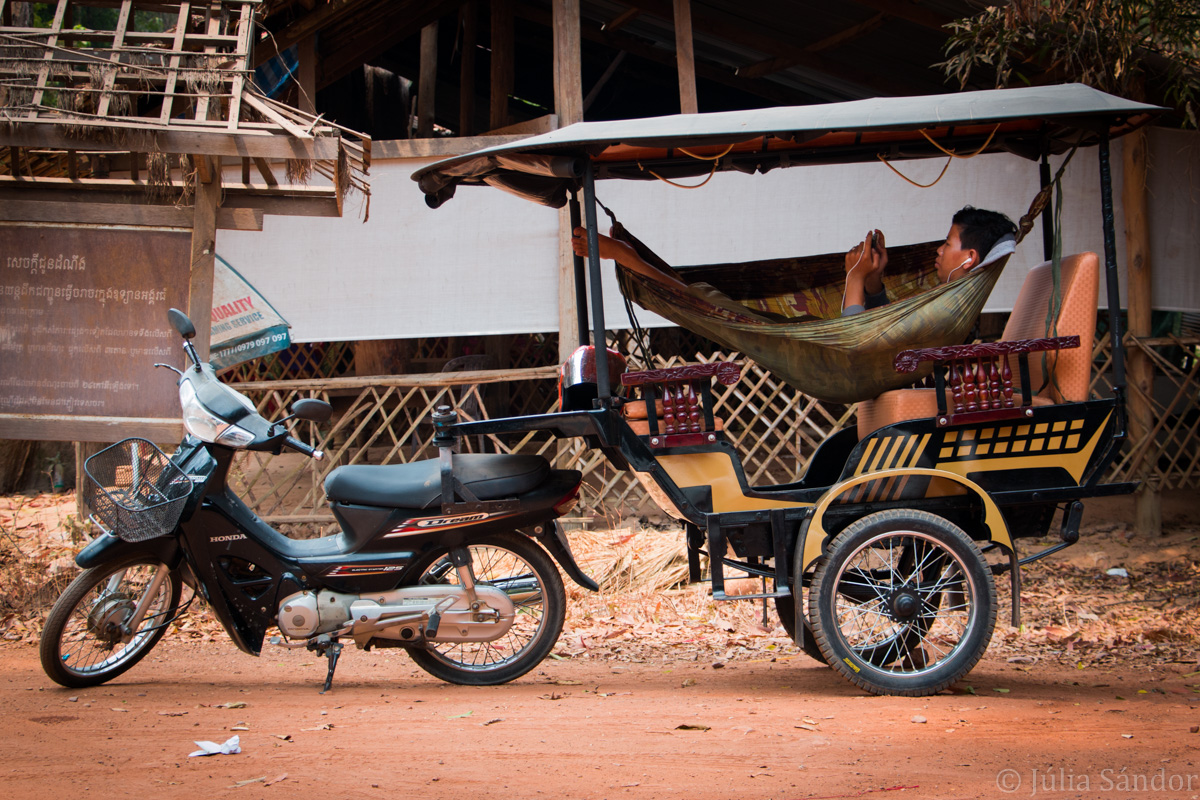 Temples of Angkor
Most of the temples of the Angkor Archeological Zone are just beautiful and mystic. Several of them we explored completely alone due to our early starts in the days, which just added to their beauty. Some temples are very well renovated, some are only ruins. Our favorite ones were:
Bayon, which lies in the heart of Angkor Thom, the last capital of the Khmer Empire. It has 54 towers, each of them decorated with 4 huge faces looking into the 4 directions.
Tha Prom, which is being eaten up slowly by the roots of enormous trees. (for fans of Angelina: Tomb Raider was shot here :) )
Preah Khan, which consist of a maze of corridors of hundreds of meters.
But others, like Banteay Srey, Thommanon or Phimeanakas were also breathtaking. We took many-many pictures, and uploaded a small selection on the website, which – hopefully – can much better reflect the beauty of the temples, buildings, carvings and statues than lengthy descriptions.
Our driver told us that the best time to visit Siem Reap is November right after the rainy season, when everything is still very green from the moss. Now – at the peak of the dry season  – we could not see too much green on the temples and in addition we had to skip our plan for a river cruise on Tonle Sap due to low (no) water. So we would surely like to return here one day to catch up on these things.