The last part of our Vietnam stay was a trip to the Mekong Delta, where we could get a glimpse of the rural life of the country. In this area everything is connected to the waters, and we have tried to explore every bit of it.
Getting around
We have tried out most of the water vehicles available in this area. We travelled in paddle boats, long tail boats, small motor boats, ferries and canoes. The only thing we have (consciously) skipped was the huge, 3-storey dinner ships in Can Tho – a small town on the shores of the Mekong. These were filled with (mainly local) tourists, serving buffet dinner and entertaining with deafening loud music (and allegedly karaoke at a later stage). We chose instead a quiet roof top restaurant, from where we could observe the evening activities on the river. Although not on the waters, but still this was more our style.
Homestay experience
Typical accommodation type in Vietnam is the homestays. These are rooms, bungalows or beds (in dorms) offered in private homes, where you can "participate" in the life of the family. We have spent one night in a charming one, the Jardin du Mekong – needless to say, not in a dorm with shared bathroom… ;). It is located at a small channel accessible only by boat, on foot, or by motorbike (we and our luggage were taken by the latter one), as the streets are not wider than a meter. Vegetation in the garden and the village is lush green; everywhere fruit trees and vegetable fields. Bananas are hanging from the trees just over the narrow pathways. Domestic animals run around and are not really bothered by human presence.
The rooms are very simply furnished, but nice, and as it is very warm even in the night, it does not even matter that there is no glass in the windows (only mosquito nets) and no warm water in the shower. H0wever the mosquito net over our bed proved to be really useful…
In the evening we were invited to the kitchen, where we helped in preparing our (excellent) local dinner. Fish, rice and vegetable are of course part of every meal here, and as in other parts of Vietnam fish sauce is a permanent flavor. The spices are delicious, not too hot, but very tasty.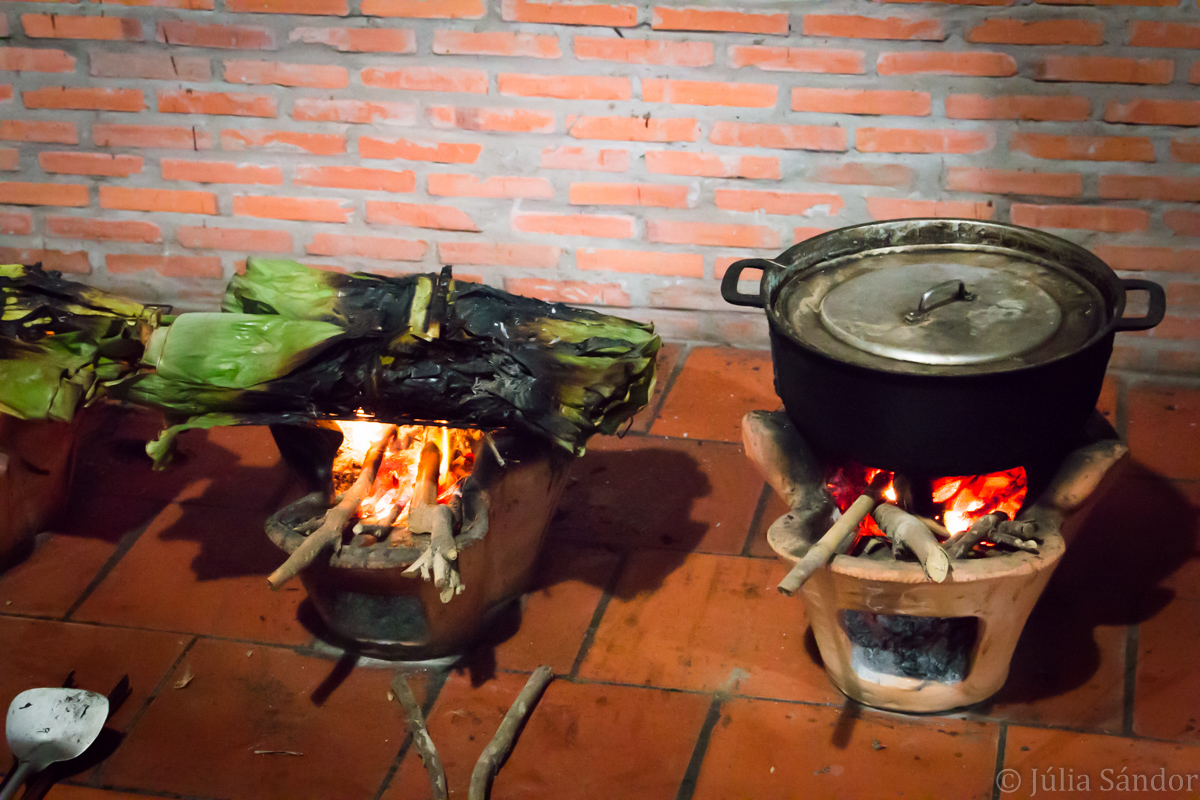 After dinner the hosts have even surprised us: 2 bowls of hot water arrived, and they told us to put our feet into it. We were guessing this is something against the heat or the mosquitoes, until a young lady arrived and provided us a foot massage to round up the excellent meal. Life is great! ;)
Floating market in the Mekong Delta
Another new event for us was the visit to one of the many floating markets of the Mekong Delta. Farmers' goods are sold and bought from wooden boats. The market that we have visited was a "wholesale" market, where only big quantities were traded. Distributors with small boats purchased their inventories to supply the retail markets with fresh vegetables and fruit. In between the large boats small vendors moved around selling drinks, lottery tickets or acting as mobile restaurants.
The wholesalers apparently live on their boats and stay at the market as long as they have sold their whole load, which can last several days. Then they return to their farms for the next load. Looks simple for an outsider but for sure it is hard work. Nevertheless we saw mainly happy and friendly faces.
These impressions rounded up our Vietnam trip from North to South, and we got ready for our next destination: Cambodia with its rich Khmer heritage and unexploited seaside.