The first couple of days in South-Africa were nothing like you would imagine as real African experience. We spent about a week in the Western Cape, in the Cape Town region, looking for penguins, whales, seals and exploring rough coastlines and high mountain peaks. The Western Cape region presented itself with lush green fields of grass and bushland.
We've visited three different national parks along our way on the coastline with stunning views, climbing onto lighthouses and steep rocks overlooking the rough, blue sea where countless seabirds rocketed into the cold water to catch fish. Along our route we visited "Stoney point" where a huge penguin colony is living on the rocky shore. We had a perfect timing to see the funny birds returning from fishing, feeding their breed and getting ready for the night. On the rocks above a big number of cormorants were nesting and Dassies were running around looking for food.
Exploring the south in Agulhas, the most Southern point of Africa
On the most Southern point of the African continent we saw the two oceans (allegedly) meet.   We tried to see or feel the difference between the Atlantic and the Indian Ocean, but there were no marks visible. The temperature and the color and the waves were similar :) .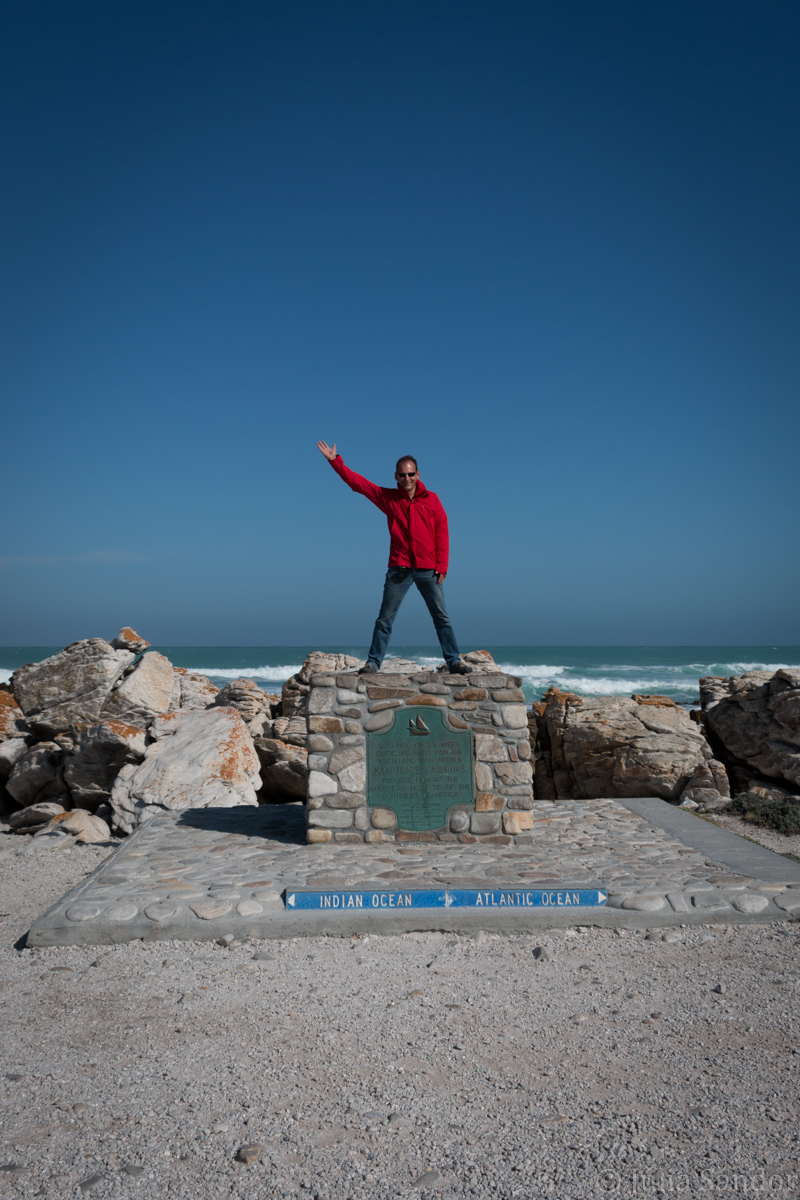 Flower hunt in Kirstenbosch Botanical Garden
The botanical garden in Kirstenbosch was worth the visit. Among many beautiful local flowers and plants the absolute highlight was the wide variety of blooming proteas. From the hills of the garden we had an unforgettable view on the city of Cape Town with the famous landmarks as Table Mountain, Lions Head and the Devils peak.
Wine tasting in Stellenbosch
Of course we could not bypass the opportunity to visit the origins of the excellent wines of South-Africa in Stellenbosch. We enjoyed a superb stake at a wine estate, and tried some delicious wine (with chocolate) on a wine tasting in a vineyard. Needless to say, the wine in this region tastes so good… Therefore a few bottles also had to jump into our car for later!
Enjoying mobility in our home to go
We also had the chance to get to know and tame our 4×4 bushcamper, which will be our home and companion for the next 2 months. It is rather comfortable, although we have to admit, sleeping in the roof tent was not necessary yet. In this area guest houses and affordable lodges are to be found everywhere. And also in this region the nights were extremely cold: from time to time we had to put on all the warm clothes that we have brought with us. So a good bed with heating was very welcome!
Our favorite photos from the Western Cape, South Africa