We made it to the very northern part of Botswana, the beautiful Chobe Region, which is home of the largest elephant population in Africa. Beside elephants, the Chobe Riverfront – which we visit – is packed with herds of buffalos and impalas, crocodiles up to 4,5 meters lying in the sun and hippos waiting in the water for the outside temperature to cool down.
Welcome to Botswana, Mama!
On our last stop in Botswana, in Kasane Mom (Éva) arrives to join us for the next few weeks. Yippie!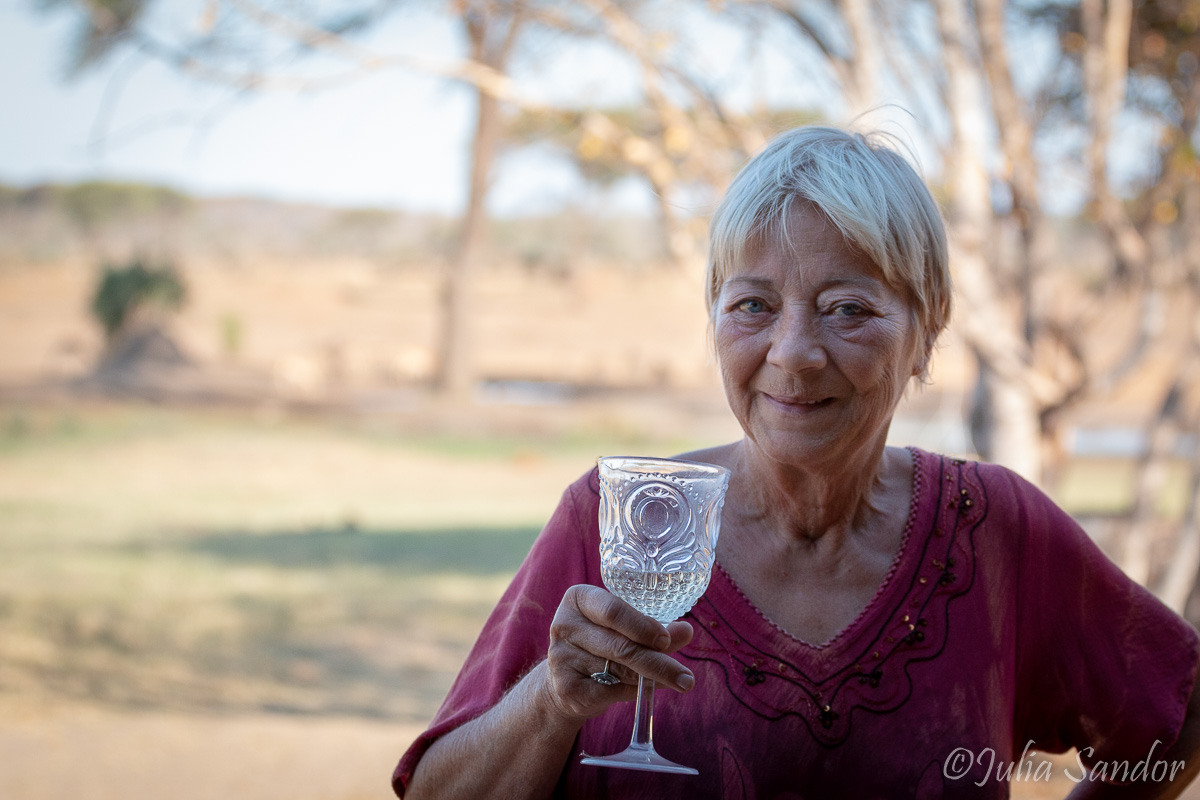 We drive to Senyati, our base camp for the next 3 nights and enjoy the first afternoon on our terrace from where we see directly the famous waterhole of the campsite. Elephants come and go – some in huge groups, some alone. Warthogs, impalas and beautiful birds make the show more colorful. We even see a flap-necked chameleon.
We enjoy a sundowner in the bar and go into the underground photo-hide, from where you can see the animals close up (a meter or so), drinking from the fountain. A unique experience.
The next 2 nights we spend on the campsite – sleeping in our 2 roof tents, listening to the lions roaring and wild dogs laughing in the surroundings. The whole camp is not fenced – as usual in Botswana. Nature pure.
The days we drive around in the Chobe National Park, looking out for game, trying to find animals we have not seen before. One afternoon we go for a sunset boat cruise and enjoy the view from a different perspective. We get so close to the game that we could touch them – and they don't seem to care. The sunset on the river creates a great Africa feeling.
These (mostly) peaceful giants still make it to the top on our list. You would not even believe how silently and quickly they move their enormous body. We observe them grazing, drinking and bathing in the water, playing in the mud, covering themselves and their youngsters with dust.
One of the most magical views is to see a herd with "tiny" babies swimming from the bank of the river to the Sedudu Island: where it gets deep, only the trunks stick out of the water – looks like a snorkel. The elephant cows lift the smallest ones to the surface again and again and help them proceed.
Pure Africa where 4 countries meet
From Kasane – the best base to visit Chobe – you can easily reach 3 other countries:
Zimbabwe is just 700 meters from our campsite, the staff even warns us not to wander over by coincidence…
When we pick up Mama from the airport we chat with a guide waiting for a group which goes tiger fishing in Zambia.
And the other bank of the Chobe River is already Namibia – where our journey takes us next.
More Impressions from the Chobe Region