Bolivia was like a surreal dream. We got from one stunning spot to another – all so beautiful they left us speechless. The Salar de Uyuni was the highlight of course, but there were so many other spots we could not get enough of. Lagoons reflecting the surroundings in different colors, volcanoes fuming smoke, stunning rock formations, bizarre petrified coral and sponge fields and snow covered mountain peaks. And all that on an average of 4,5 thousand meters…
Magic of the Salar de Uyuni
The main reason for our trip to this part of Bolivia was to see and experience the Salar de Uyuni, the largest salt pan of the world (12 thousand km2). We read and heard so many wonderful things about this place that we wanted to see it for ourselves. And our high expectations were absolutely surpassed.
The moment we entered the endless, white reflecting surface of the Salar, we were again reassured that it was worth every effort to come here. The sky and the earth merge in infinity and it is really hard to see where one ends and the other starts. We cruised through the crystal clear, shallow water and when stopping we enjoyed the feeling of the warm, salty water on our bare feet. The Sun was hitting us so strong from high up and below (through the white reflection from the water), it was nearly impossible to take off our sunglasses.
There are some black basalt stone islands creating a strong contrast to the snow white salt flat. Out of them only 2 are open for visitors. On the Isla Incahuasi we got "on shore" and enjoyed the 360° view from its top. We will for long remember the infinite space of the Salar and the mirror-like reflection of the blue sky and the clouds on the surface of the waters.
Varied landscape from deserts to lagoons in all colors
But the scenery was breathtaking not only in the Salar, but from the beginning to the very end of the 4-day Bolivia trip. High snow-covered volcano cones around us all the time, in between deserts alternating with grass covered areas. Embedded into all this we saw bizarrely eroded rock formations, steaming geysers and lagoons sparkling in all colors of the rainbow.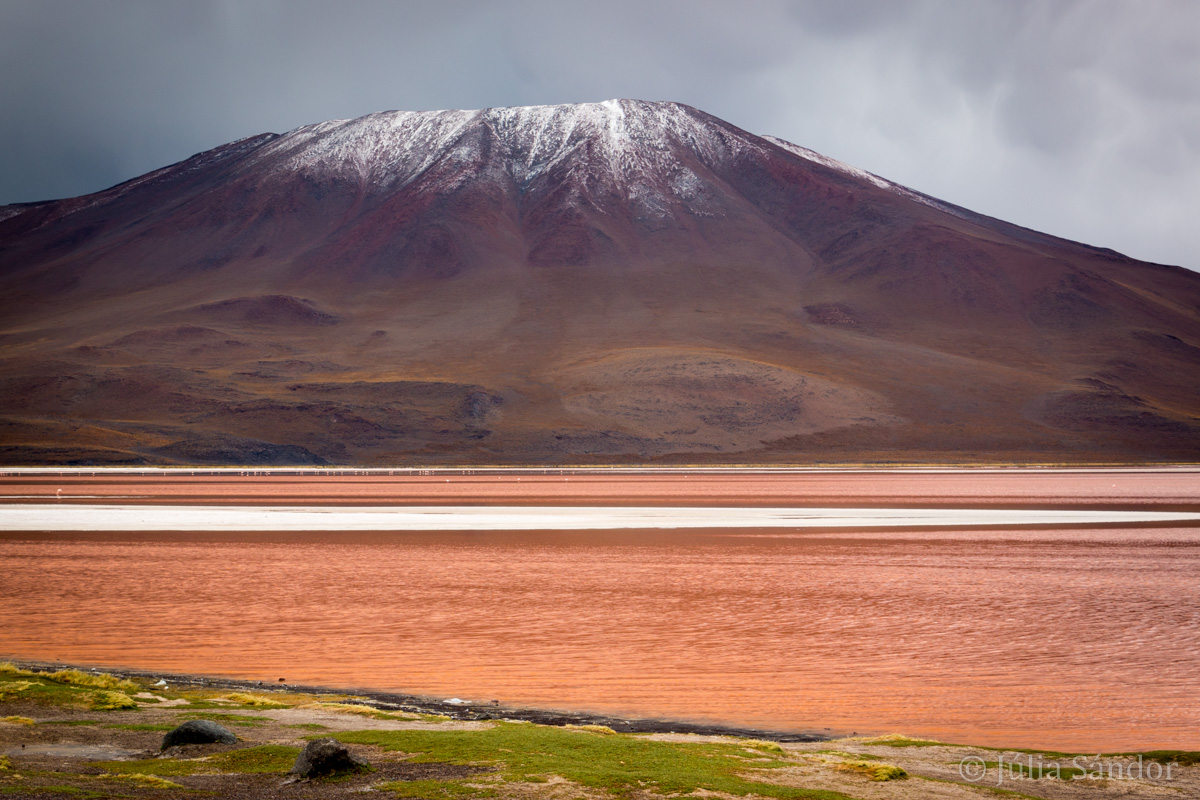 In nearly all lagoons we kept seeing different kinds of flamingos: Chilean, Andino and James – which all differ in colors and beaks. They were gracefully dancing through the water while filtering out the small crustaceans which are reason for their beautiful pink color. But not only birds are endemic in this region, also some mammals live here. We saw vicuñas, vizcachas (long tailed rabbits) and of course also the domesticated llamas. Some of the latter were nicely decorated in preparation for Carnavales.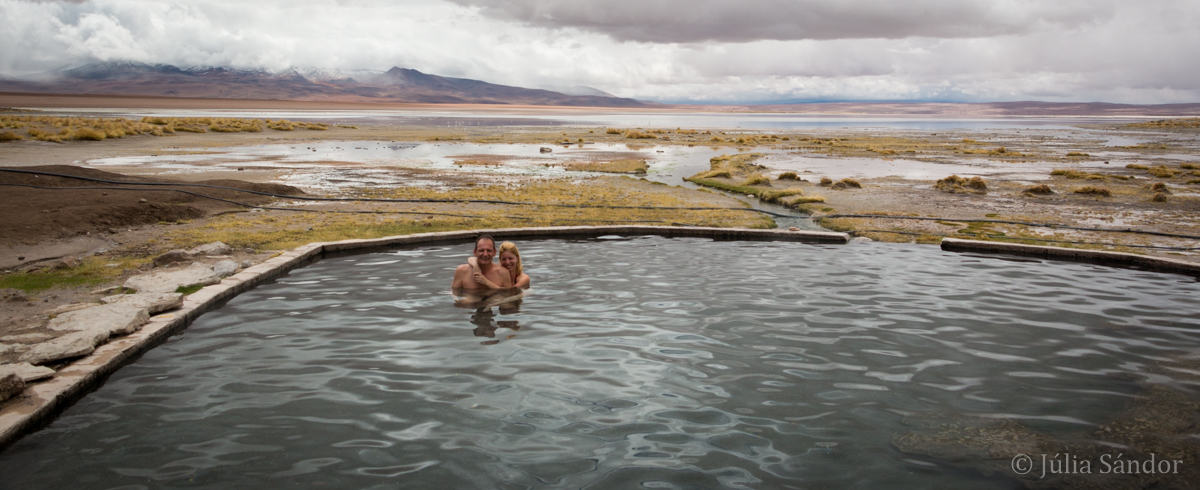 Taking a bath in the warm thermal waters at 4.500 meters was also an interesting event.
The experience of thin air on altitudes above 4000 meters
We practiced a bit in Chile, but still a new learning for us was functioning on this altitude. We were lucky enough not to have too severe symptoms, but we could still feel some effects of the thin air. The most special part of being "high" was sleeping here – it did not provide a peaceful rest, apparently the body was quite busy to handle this unusual environment. But during the day we also felt rather quickly exhausted after walking up just a couple of meters, which in normal conditions we would not even take notice of.
The locals obviously have adapted to the circumstances: allegedly they have much more blood than us from the "lowlands" and their metabolism is well accommodated. This makes it possible to find rare infrastructure, like hotels or hostels that operate in such altitude.
Below you see our hotel at 4.600 meters, run by the local community – for miles around no other sign of life.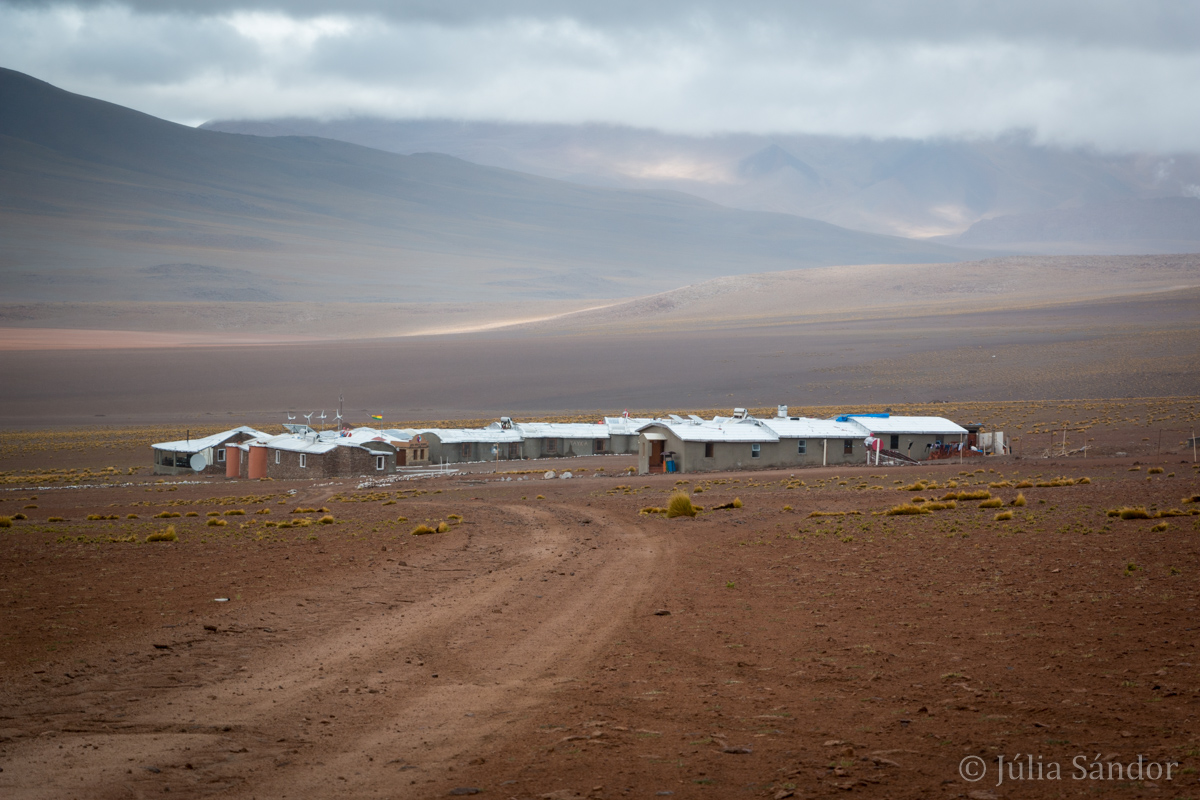 And another remarkable benefit of the highlands is the brilliant clean air. The view is nearly unlimited, completely free from dust – some "lower" clouds could be the only exception to this.
Driving in this part of Bolivia
We were really happy we did not have to drive this trip on our own – unlike our routine of self-driving and – organizing, this time we did book a tour from San Pedro de Atacama, Chile. Even with a 4×4 and an experienced driver the route was often very challenging. In the approximately 1.100 km we drove on this tour there were not more than 30 km of paved road, the rest were dirt roads at their finest. After Namibia we are used to dirt roads, but here often 10-15 tracks led in the same general direction, with some of them disappearing after a few hundred meters, or even worse: ending in mud or huge holes.
So most probably our small Peugeot (our rental car from Chile) – and also we – would have given up shortly after the border… :D
After our travels in Africa we thought we experienced deserts, endlessness and loneliness, but here we learned that there is a next level of all of these dimensions.
More impressions from the Bolivian Altiplano and the Salar de Uyuni